PRO-MILL supplies a wide range of stainless steel steam (and gas) filter cartridges for many industries, from pharmaceuticals to petrochemicals. The robust design of PRO-MILL filter elements ensures a very high quality of filtration in the most difficult operating conditions. PRO-MILL steel filter elements are ideal for high temperatures and high pressure differences, wherever classic polymeric filter elements cannot be used for process reasons. A great advantage of our stainless steel filter cartridges is also the possibility of their reuse after appropriate cleaning. This makes the filtration process much more economical than with classic single-use filter elements.
For our cartridges – we also produce suitable filter housings – process filter housings.
Standard and for a project made individually according to customer guidelines.
STEAM FILTER HOUSING
Steam is of great importance in many industries, being an ancillary medium, e.g. for sterilization in the food, cosmetics, pharmaceutical and biotechnology industries. However, the use of steam is very difficult – there is a very high temperature and in addition, due to extreme process conditions, many mechanical impurities are generated, such as corrosion products of plant components. As steam usually comes into direct contact with the product or the installation, which must be sterile, it is necessary to use solutions such as steam filters.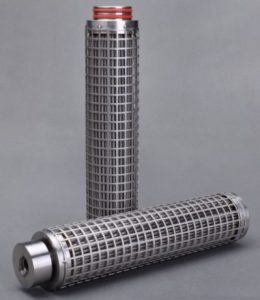 Due to difficult process conditions, regenerated metal filters with high resistance are used as steam filters. Depending on the needs, the filter medium may be metal filtering mesh, welded steel fleece or sinter metal of acid resistant steel. They differ in porosity, and thus in filtration efficiency and mechanical properties. Filter cartridges can be made both as pleated cartridges and cylindrical rolled cartridges. Pleated cartridges are characterized by a large filtration surface, while cylindrically rolled cartridges ensure ease of cleaning. The type of filtration medium, the technology of filtering the cartridge as well as the dimensions of the filter are selected individually, depending on the specificity of a given process and installation.
Housings of devices of the steam filter type are usually made of acid resistant steel AISI 316L. Sanitary design allows to maintain microbiological safety, required e.g. in biotechnological industry.