PRO-MILL gas filtration cartridges with the correct filter medium for the application have been designed for maximum effective filtration and sterilization of process streams. PRO-MILL cartridge filters are ideal for the filtration of air supply to the fermenters, filtration of breathing air – on tanks, sterile air. PRO-MILL filter cartridges are used in pharmaceutical, food and cosmetic industries. Our filter elements in steel design also perfectly filter hot and aggressive gases.
Filter cartridge in the PRO-M membrane version ensure sterilization – sterilization of the process stream – this allows the removal of microorganisms – both vegetative and spores. PRO-MILL filter cartridges guarantee 100% sterilization efficiency according to HIMA requirements, with high thermal resistance and wide chemical compatibility.
For our cartridges – we also produce suitable filter housings – process filters.
Standard and for a project made individually according to customer guidelines.
BREATHING FILTERS
Breathing filters are of huge importance in many industries. They protect the contents of tanks from external factors, preventing contamination from getting inside them.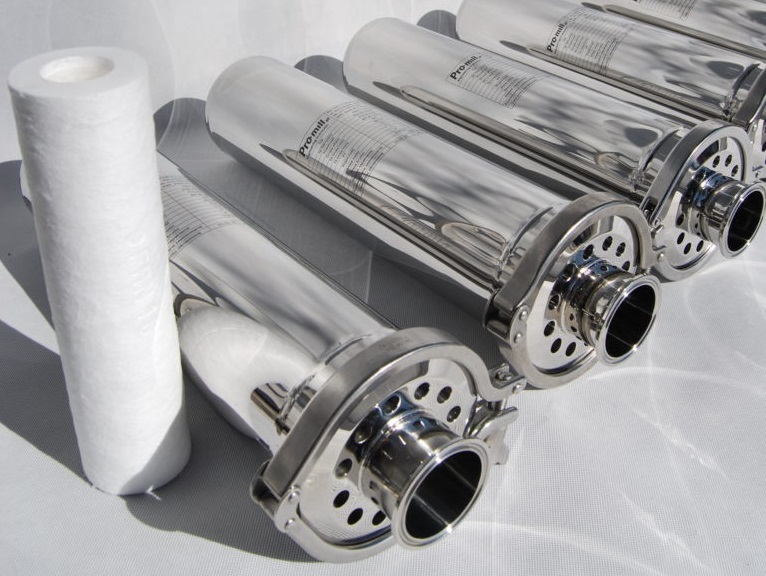 A breathing filter is often installed complete with breathing valves to compensate for pressure in the tank, e.g. when filling or emptying it, to prevent explosion or implosion. The installation of such a set therefore ensures that the tank is protected against damage due to overpressure or underpressure exceeding an acceptable value, while protecting its contents.
In the food, pharmaceutical and biotechnology industries, a sterilization class breathing filter plays the most important role, which not only constitutes a mechanical barrier but also protects the tank contents from microbiological contamination. Such a filter should be periodically sterilized.
Breathing filter housings are made of various grades of steel, most often AISI 304 and AISI 316L stainless steel, and are characterized by high standard of surface finish. Breathing filters housings are adapted to standard cartridge inserts, such as: tubular cartridge filters (produced by blowing fibers of thermoplastic materials, e.g. polypropylene, polyamide, polyester), pleated cartridge filters (made most often of polypropylene or fiberglass in pleated construction), pleated membrane cartridge filters (made of synthetic membrane in pleated construction). For coarse filtration it is also possible to use a metal filter, which is characterized by high resistance to aggressive environment.
The construction, housing material and filter cartridge for breathing filters housings are selected according to the specifics of a given process. Depending on the needs, it is possible to equip the filter with a heating jacket.