Liquid filter bags are an efficient, effective and economical filtration method. Depending on the type of medium to be filtered, the required filtration accuracy as well as the flow rate, a suitable filter bag can be selected from the wide range of Pro-mill products of this type. All bags have one thing in common – easy and simple to replace.
Filter bags are widely used in cosmetics, automotive, paint and varnish, food and chemical industries. They are characterized by a depth filtration mechanism, in which the filtered liquid flows through successive layers of filter medium, which trap dirt of ever smaller size, preventing the occurrence of surface blocking. Filtration from the inside to the outside of the bag allows the dirt to be trapped inside. The welding process to which the bags are subjected during their production eliminates completely the formation of bypasses, which additionally protects the filtrate from re-contamination. Once a lot of dirt has accumulated in the bag, it can be replaced quickly and easily. Each bag is equipped with a special handle for easy replacement.
Depending on the application, we offer filter bags made of filter felt (polypropylene or polyester), mesh bag filters (nylon) as well as filters made of special materials such as melt-blown microfibres. It is possible to select the material of the bag so that during filtration it also allows for additional phenomena, such as oil adsorption, especially important in the case of paint and lacquer cleaning, or breaking up gel impurities, which normally block the filter surface very quickly. Filtration bags can even be used for such demanding processes as water purification or catalyst recovery. Some bag types provide an efficiency of up to >99% for particles of 1 – 25 μm.
Each bag is equipped with a very effective seal in the form of a self-sealing polypropylene collar, which additionally supports the filter bag in the right position, or a steel rim with a stainless steel ring (AISI: 304 or 316L) covered with felt, positioned on the upper collar of the filter basket (for this type of solution a spring clamping element is recommended).
The bags offered by Pro-mill are silicone free and are manufactured in silicon-free conditions. The materials used to manufacture the bags comply with the European Directive 2002/72/EC, developed for plastics and foodstuffs. They are completely free of free fibres that could migrate with the filtered liquid.
Filter bags are suitable for both coarse and very fine filtration. They are a very economical and easy to use alternative to many other filtration solutions.
In case the bags do not provide sufficient quality – filtration accuracy – when we want to increase the quality of filtration without changing the filter housing – special pleated, absolute cartridges – type Marksman cartridges are the solution. They can be used as replacements for filter bags in sizes 1 and 2.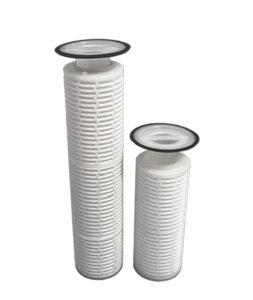 Cartridges for the bag filter housing